CMC Ontario Regional Director Joseph Glaser sat down with HPO composer fellow, Matthias McIntire to discuss his participation in the Hamilton Philharmonic Orchestra Composer Fellowship program.  
The program was launched in collaboration with the Ontario Region of the Canadian Music Centre in our 18-19 Season. The program is aimed at connecting early career composers with professionals in the orchestral world to nurture and develop new skills through mentorship and the creation of a new work. 
On June 24th, 2022, the Hamilton Philharmonic Orchestra Premiered Matthias's work Yangon Connection conducted by Andrei Feher as the culmination of Matthias's fellowship with the orchestra. 
Joseph Glaser: Tell me about your background. How did you get into playing music and composing? 
Matthias McIntire: I come from a family of amateur musicians and there was always music in the house. My mom got me a violin when I was five and that has been the longest and most consistent engagement I've had with music over my life. I still play violin and viola alongside my composition practice. The violin was not only my way into classical music, but also how I engaged with other music. I played fiddle tunes, was interested in jazz violin, and improvised music. I was influenced by a CD I had of Yehudi Menuhin and Stéphane Grapelli where Grapelli would take improvised solos and then Menuhin would play written out solos and I listened to that CD all the time. Soon after I started learning how to play, I also started playing with my church, and the music director at the church encouraged me to improvise and perform in front of people. The repertoire was very eclectic, I would try and "jazzify" hymns, but we would also do some Messaien-esque violin and organ improvisations.  
I started to try my hand at composing when I was attending the Etobicoke School of the Arts. I had been taking music theory lessons for a while by that time, so at school I started writing little pieces for my friends. Despite this, I did my undergraduate and master's degrees in violin performance. My outlet for creating music at this time became really focused on improvisation, wherever I could find it – jams, bands, jazz tunes, free improvisation ensembles, etc. When I went to the San Fransisco Conservatory to pursue my master's degree, I had a lot more contact with new music through their composition department and I started taking lessons with the composition faculty. On my graduate violin recital, I decided to program a solo piano piece that I had written and somebody else played it. I was playing all this intense repertoire, and at one point I got to sit down and listen to a great performer play my piano piece. That was a big moment for me because it made me realize how much I enjoy composing, and how much it was missing from my life. So I took a few years to write a portfolio and then applied to doctoral programs, finally landing at U of T.  
JG: How have you been finding the transition between the DMA and professional life? 
MM: I had already had one foot in the professional world, both as a composer and as a performer. When the pandemic hit, all of my performance work dried up, but consequently it allowed me to focus on finishing my degree and I started having success with my composition practice. A big project that's coming up is a song cycle project for the soprano and pianist Rachel Fenlon who self-accompanies as she sings. We co-wrote the text on our mutual love of nature and fear of the tragedy of climate change. Otherwise, I had the opportunity to teach a course at U of T Scarborough called "The independent Music Maker". It's a course for people who are studying music and another discipline. I was able to design that course myself, which was a great learning experience. Next year, I will be the composer in residence for the Lunenberg Academy of Music and Performance. I actually had just come from conducting and presenting my thesis composition with the ensemble there before heading over to Hamilton for the premiere. That was very different from my HPO experience because I was actively involved in performing and leading rehearsals. Following the activity this summer, my wife and I will be moving out to Nova Scotia for that opportunity.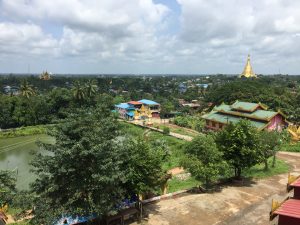 JG: Tell me a bit about the piece? How did you approach translating a biographical experience into a concert work?
MM: The piece I wrote for the Hamilton Philharmonic Orchestra is called "Yangon Connection". It's about an experience I had four summers ago when I went to visit my sister in Yangon, Myanmar where she and her husband were living at the time. I was there for two months, exploring the city and a new culture and food and having a really wonderful time. While I was there, I decided to find other musicians to play with, and on this Facebook group called "Yangon Connection", which is where I got my title from, I found two other visiting musicians from the UK. One plays mandolin and another is a percussionist who plays spoons and bodhrán. We jammed together, played some fiddle tunes and quickly decided to form a band called "Craic the Knife" – which is a pun that no one else understood. We played 25 shows while I was there and we got some media buzz including a write-up in the national newspaper, the Miyanmar Times, and a viral video of us performing on a train. The experience was amazing, unexpected, and hilarious and ended up being my way to meet a lot of people while I was there and engage with the local arts and music scene. I got to play with some Yangon based musicians of all different sorts.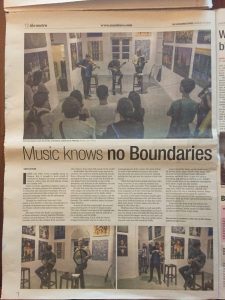 In the piece itself, I was bringing together some sonic influences, quoting some fiddle tunes and also the sound of Yangon in the manner of a field recording soundscape. There are crows, bike bells, gongs, sparrows, and sounds of wind through Buddhist temples. The piece is also, obviously, in the orchestral idiom so there are elements of western classical orchestra music as well. The piece ends with the soundscape all by itself which included a bit of audience participation which was an experiment for me. I've done stuff like that before, but never with that big of an ensemble, that big of an audience, and that big of a space. 
JG: How does your composition practice intersect with your performing practice, both classical and otherwise? 
MM: My background as a performer definitely influences my music, there's no question about it. At various times I've viewed it as a strength and as a weakness and I think it is both in a sense. I know what it's like to experience being in the present moment as a performer and understanding the way in which time flows during a performance has really helped me as a composer. When you're composing, time is on a much slower scale. You often encounter the scenario where you're working on something for two months but then it only ends up as one minute of music. Having experience as a performer gives me that perspective of what it is really like to feel musical time once it's left the page. Sometimes I've made efforts to write music explicitly not as a performer. In the last century or so, there was historically a shift away from performer/composers in classical or academic music and I was curious about that scenario, attempting to approach music as just a composer. What I found out is that it's pretty hard for me to get away from my performance experience. Ultimately however, after that experimentation I found that I like the idea of music as a hands on experience, something that you use your hand or body to create. The bodily experience of performing is an increasingly important aspect of music for me.  
JG: How was your experience with the HPO?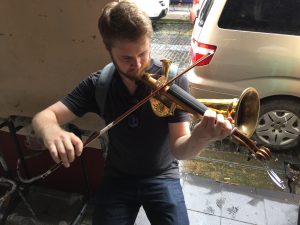 MM: It has been awesome. Even though it's at an end now, I feel as though I have been welcomed into the HPO family. Something that really struck me about the orchestra is what a strong sense of community they have. You don't often feel that way in large institutions, but they do a really good job of interfacing with their audience, through outreach in the community, educational initiatives, concerts in senior homes, etc. Either Abigail [Richardson-Schulte], Gemma [New] or Kim Varian, or some combination of the three, are always at the concerts talking to the audience. That very visible connection with the public translates to a palpable sense of engagement from the audience, for example, I was able to get everyone on board to try this soundscape moment in my piece. There were 800 people at that concert supporting a young composer's idea by taking part and participating. Through Abigail's work as Composer-in-Residence, they also have great representation of living composers. On the [Intimate & Immersive] concert on Sunday, there were fourteen composers present in the audience, and she brought us all on stage.  
My fellowship year was officially 2020-2021 which was the depths of the lockdown. Despite this we had weekly meetings with Abigail and she set up these meetings with various people in the organization, the marketing department, Kim Varian as the Executive Director, the financial department, etc. So we could really situate ourselves within the organization and their needs. This past year I had the opportunity to call the shots for the livestreaming of some of the concerts. I got to see the truck with all of the camera feeds, it felt like I was in a heist movie. I learned how to prepare a score for broadcast and then tell the camera operators which shots to make live. It's kind of like its own performance, because you're right there with the music in the present moment. I have an extended interest in multimedia so it was really interesting to get involved with the video.    
JG: What are some takeaways you have from the program? 
MM: In musical terms, I definitely feel like I learned something about orchestration. My first impression of hearing the orchestra in FirstOntario Concert Hall was "oh my gosh there is almost a 3 second reverb in here" and that really washes things out. My piece had a lot of quick changes in colour where motifs were passed around from one instrument to another and that's something that's really hard to make come across. I think I have more to learn about what sounds good for orchestra. There's something to be said for simplifying rhythms and entrances, so that there's more synchronicity to increase the clarity of the lines. I'm also really interested in hearing the recording of the soundscape, because on the ground I was just able to hear what was around me, which was mostly people flapping their programs.  
Like I said before, I love the HPO's sense of community, which is something I've always shied away from, especially in the composition world. I've often felt like I don't know where I fit in in the new music scene and I don't always know how to be open with other composers and new music practitioners. However, the HPO fellowship showed me what it's like to have that sense of community and that's something that I want to prioritize going forward. I'd love to have more opportunities like that to bring being a composer, an organizer, and all the other non-musical elements to the table.