CMC Ontario Administration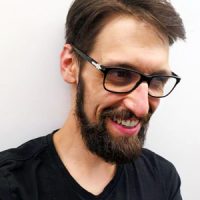 Matthew Fava is a musician and arts administrator. As Director of Ontario Region at the Canadian Music Centre (CMC) he has developed education, residency and mentorship programs. In 2016 he worked with Rose Bolton to launch EQ, a program for women in electronic music. He is also a founding organizer of the Toronto Creative Music Lab, a peer-mentored workshop for early career musicians and composers. He is currently involved in an ongoing inter-generational interview series for artists, and livestream productions of concert events.
Matthew has volunteered and worked in the community radio sector in Toronto and helped to coordinate special broadcast events celebrating local hip hop, dub poetry, calypso, and more. Matthew currently volunteers on the boards of the Music Gallery and Contact Contemporary Music, and helps to organize the annual Intersection Festival. Matthew plays violin and bass in the psychedelic spacerock band Moonwood which has been featured in events curated by Burn Down the Capital, Long Winter, Wavelength, and Weird Canada. Matthew was a fellow of the 2016 Cultural Leaders Lab jointly administered by the Toronto Arts Council and the Banff Centre.