The Ontario Regional office of the Canadian Music Centre has been advancing the mission of the CMC in the province for more than 30 years. We are one part of an extensive community of artists and organizations that connects audiences and learners with contemporary music and composers.
The Beckwith Award recognizes and celebrates the extraordinary contributions of Ontario-based organizations towards this shared mission.
Scope & Eligibility | Several awards are given out each year. Recipients can include ensembles, festivals, music series, education programs, and educators, among others. Recipients will have an established record of valuing and contributing to contemporary music-making across Ontario.
Selection Process | Recipients of the Beckwith Award are determined through consultation with the CMC Ontario Regional Council, a volunteer-driven advisory council with membership from different parts of the province that is active in a variety of musical contexts.
Recipients are profiled through the CMC Ontario site, CMC social media, and general media outreach. CMC Ontario provides a framed certificate, and coordinates a public presentation in collaboration with the recipient.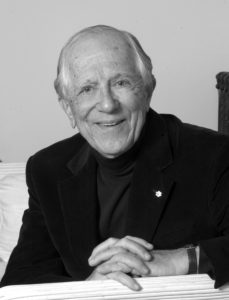 About John Beckwith | As a composer, educator, writer, and administrator, John Beckwith has played a singular role in Canadian music. Born in 1927, Beckwith pursued his interest in music from a young age. He became part of the University of Toronto faculty of music in 1952, would serve the faculty as dean from 1970-1977, and in 1984 became the first director of the faculty's Institute for Canadian Music (now the Institute for Music in Canada). Apart from the various lectures, articles and papers that he has produced, Beckwith served as a script-writer and programmer at the CBC and a critic/columnist at the Toronto Star in the 50s and 60s. Musically, Beckwith has produced an extensive catalogue including chamber, choral, large ensemble, and staged works.
Most significantly, in telling the story of the CMC, John Beckwith is one of our founders. In dialogue with his peers in the 1950s, Beckwith imagined the CMC as a composer support centre. Beckwith went so far as to house the music of his colleagues in his basement, which formed the "nucleus" of the CMC holdings when the organization was established in 1959. He remains an active contributor to the CMC: visiting to conduct research in our collection, attending concerts, supporting early-career artists, and of course submitting new compositions.
Information | to learn more about the Beckwith Award contact matthew.fava@cmccanada.org.
Photo Credit: André Leduc