By Matthew Fava & Charles Glasspool
Over the past year, CMC Ontario was in discussion with the organization's co-founder John Beckwith to develop the Beckwith Award. Through the award, we are acknowledging the extraordinary contributions of Ontario-based organizations and individuals towards connecting audiences and learners with contemporary music and composers.
During our initial discussions in the fall of 2019, John Beckwith and CMC Ontario council members agreed it would be crucial to highlight the role of music educators in the province. We had no idea that the subsequent labour actions, and the present pandemic response, would cast the importance of public education into such sharp relief.
CMC Ontario Director Matthew Fava, and CMC Ontario Council Member Charles Glasspool reached out to the educators recognized by the award, Dan Austin, and Danica Brokelman, to hear about their career experiences, as well as thoughts about music education and its importance in the present moment.
Today we feature our discussion with Dan Austin, who teaches at Guelph Collegiate Vocational Institute.
CMC: I think a lot of us have epiphanies: moments in our life when we come to a deep understanding of ourselves, of our relationship to the world, so on. And I think a lot of us have epiphanies that are tied to musical experiences. Tell us about a music educator who inspired you, or other artists and composers who changed your relationship to music.
Dan Austin: There have been a few events in my life that have greatly influenced my musical journey and led me to where I am today.
The one I will share, the first event chronologically, happened when I was 16 years old. I started playing around with the upright bass that year. I took a couple lessons from an older student at the school, Mike Lalonde (who still works as a professional bass player), and taught myself the basics. I started playing in my school stage band. That year we attended the Musicfest Canada regional in Hanover (or it might have been Collingwood, but I am pretty sure it was Hanover). Back in those days all the stage bands played on the same day, then everyone had dinner together. The adjudicators would choose an "all-star" band with the top players from each school. When everyone else was eating dinner the all-star group would practice and then after dinner they would put on a quick concert for everyone.
To my surprise, I was chosen as the bass player for this band. I honestly was shocked. I knew I could play, but I certainly hadn't thought of myself as being the best bass player at the festival. We played the concert that night for all the kids and I had a blast. After it was over, the adjudicator who had run the all-star band pulled me aside. He said "You can really play. You are really good at this. Have you ever considered doing it for a living?" Everything clicked for me. I knew what I was going to do with my life, and it made so much sense. I was good at music. I should make music my life's work.
I always remind myself of this story when working with my students, because it shows that the littlest thing you say can completely change someone's life.
A selection from Dan's jazz album. You can also watch footage of Dan performing with Methodology, and the men's a capella group Harbourtown Sound.
As far as music teachers who have inspired me… this response might be cliche, but I am inspired by almost every music teacher I meet. I learned very early on in this career that you don't need to reinvent the wheel. There are hundreds of incredible music teachers out there doing this every day. Learn from them—especially the older ones who have the years of experience. I would make it a point at every festival I attended as a teacher to learn something new from each adjudicator and add it to my repertoire of skills. Every conference I attended. Every workshop. There was always something I could do better.
From a personal standpoint there are a few people who were big influences on me; I had some amazing music teachers when I was in high school, however, the biggest influence on me was the amazing Suds Sutherland. He was unlike any teacher I ever had. A huge biker beard, a great laugh, and an infectious love for music. Another influence was my church choir director Blair Bailey. Blair taught me music from a very young age, including theory, analyzing music, and introducing me to classical music.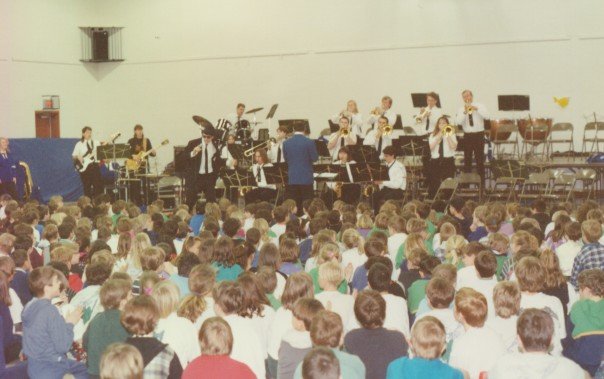 A photo of Dan Austin's own high school years in the jazz ensemble.
When I finally decided to try this bass thing for real I attended the National Music Camp where I met another bass player, Ross MacIntyre. Ross was the same age as me and was already an amazing bass player—like, he kicked my ass musically all over that camp. Ross was taking lessons from Pat Collins so I decided to do the same. Pat was amazing. I was living over two hours away from Pat so I would drive into Toronto to take lessons every couple weeks. Pat would give me long lessons, much longer than most private teachers. We would play tunes. We would listen to tunes. He taught me the discipline it takes to be a professional at the highest level. He taught me the work ethic that I was missing.
And the last question; was there a composer? Yes. It's a bit of a joke amongst my students: I have a composer crush on Brian Balmages music. I LOVE the music Balmages writes. Honest truth is that I fall in love with every piece of music I do with my students. If I don't love it, they won't love it.
This year we did Cait Nishimura's "Chasing Sunlight" and it was so great. Such an incredible piece. I am actually looking at repertoire for next year right now and have fallen in love with Tyler S. Grant's "River Poem".
Dan's students perform Cait Nishimura's Chasing Sunlight.
CMC: Was music always a collective activity for you? Was there a moment that perhaps a personal experience of music bridged with playing in an ensemble?
DA: For me music has always been and will always be a collective activity. In fact, I find it extremely difficult to do music on my own. I don't enjoy solitude practicing (although I do it because I have to) and I don't particularly enjoy writing or arranging (although, once again, I do both). For me the most gratifying part of music is making music with other people. That is one of the main things I try to teach my students too. I always start the year with a band camp retreat weekend filled with rehearsals led by guest clinicians, but half the time is spent on team building activities. The theme of the camp is always the same: "band is like a family". There is a poster that hangs on my music room wall for the rest of the year which echoes that experience and reminds students that the true joy of what we do is working together.
One of the most rewarding parts of my job is watching the bonds that my students make—seeing them remain friends for years beyond their high school graduation. Knowing that music was part of the bond that gave them a place to belong in high school is so important to me.
CMC: What does music education mean in the present moment? I know there is the possibility that students will pursue a career in the arts, but that isn't necessarily the primary outcome of our work.
DA: I think music education serves a much bigger purpose than just teaching music. Sure, it is always nice to watch graduating students go on into music studies, but that is an average of two or three students a year. The vast majority do not study music beyond high school, however they bring with them a passion for music (which may re-ignite!), and a set of skills that will serve them for the rest of their lives.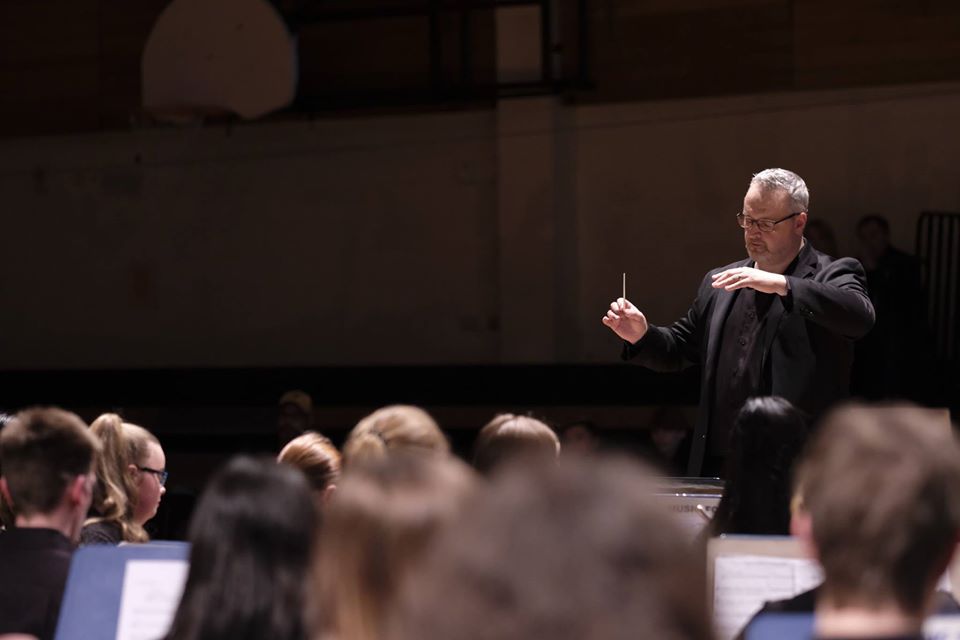 Music education offers students a chance to be part of something bigger than themselves. Rather than feeling isolated or insecure about how they look or how they are seen by others, a band or choir experience invites them to be part of a community and a collective effort—that skill can transfer to so many areas of their lives.
Secondly, music education teaches students the discipline of mastering something at a high level. Most of my students have experiences playing music before they arrive in Grade 9. We shift the expectation, and stretch beyond the notes and rhythms that were the focus of earlier training. When students get the experience of really working a piece of music, paying attention to all the little details, they understand the level of dedication that goes into the artform: listening, balance, intonation, phrasing, tone colour, and more. Students also learn to receive feedback, self-evaluate, and through all of this develop their skill.
Music education teaches these skills in a way that is so rewarding. When a student finally has that great performance they know it, they can feel it, and it is a great feeling. They understand that the hours that went into preparations were worth it. No grade on a test can do the same thing.
Lastly, I want my students to graduate with an understanding of the importance of music in our world. I want them to realize that there is a joy that music creates in their lives. There is nothing I find more rewarding than seeing a former student reconnecting with music. They might be playing in a band, joining a community choir, or learning to play the guitar. Whatever it is, something from their music education offered a positive experience and they choose to return to that process later in life. That to me is the ultimate success.
CMC: How are you engaging with your music students during the pandemic?
DA: There are actually a couple things I am doing to keep my students engaged. First and foremost, I am talking to them regularly. I set up google meets/zoom sessions with my band kids regularly. They are all good friends and it is important that we keep that connection together. Sometimes we talk about music, other times we just chat.
I use social media A LOT with my students. Particularly Instagram which is the most popular with students. I post updates about things I am doing. I post recommendations for albums they should check out. I show them places where they can still find music through Facebook Live sessions, and so on.
I also have a chat group set up with my senior leaders for next year. This is something I do every year, but it is even more vital this year to keep my students engaged. We talk about repertoire ideas for next year—it is really important to me that my students enjoy the music we are playing, so I like them to be involved at this stage.
Lastly, we are currently working on making one of those multitrack videos of the band and choir performing a piece. This is important since we missed so many of our performance opportunities this year. I want them to have a performance outcome which they can feel a part of this year. We are in the early stages but I am hoping to have it done before the end of June.
CMC: Between labour actions, and the pandemic, this has been an incredible watershed moment for educators in terms of the public perception of their role. What do you want the wider public in Ontario to appreciate about your efforts? What are the misconceptions that you encounter?
DA: I want the wider public to understand the importance of arts education in the lives of students. Many people view our education system as a hierarchy where maths and sciences are at the top, followed by languages, then humanities, and finally the arts and physical education at the bottom. The truth is that every subject area has value and should be treated equally. It is so frustrating when a student comes to me and says they have to drop music because they can't fit it into their timetable. We need to be encouraging our students to be well-rounded and educate them in every area of life.
I do think that this pandemic has highlighted just how important arts are in the world. Right now, while people are in lockdown they are finding joy and entertaining themselves with music, film, books, etc. These art forms are at the core of the human experience. They are what people turn to for comfort. It is so important that we continue to emphasize these connections. Without a focus on arts as a legitimate form of education those connections will fade away quickly.