CMC Ontario Regional Director Joseph Glaser sat down with HPO composer Fellow, Cadu Verdan to discuss his participation in the Hamilton Philharmonic Orchestra Composer Fellowship program.   
The program was launched in collaboration with the Ontario Region of the Canadian Music Centre in our 18-19 Season. The program is aimed at connecting early career composers with professionals in the orchestral world to nurture and develop new skills through mentorship and the creation of a new work. 
On October 28th, 2022, the Hamilton Philharmonic Orchestra Premiered Cadu's work Convergence conducted by Gemma New as part of Cadu's fellowship with the orchestra.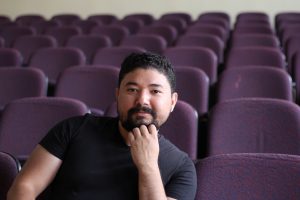 Joseph Glaser: Tell me a little bit about your background, how did you get into music? 
Cadu Verdan: My first contact with music was around 6 or 7. My grandmother had a few "Greatest Hits of Classical Music" CDs. I loved them so much I wanted them played all the time, even during parties, much to my grandmother's chagrin. Even though I was so fascinated by those works, because I don't have any musicians in my family, I lost contact with classical music for a while, only getting back to it through rock music. When I finally decided to study classical music, it was pretty late, only starting piano lessons at 17. It was difficult in the beginning, because my social background limited the possibilities I had for study, which is quite expensive in Brazil. Because of this I had to do a lot of it on my own through online resources. Wikipedia was my gateway into learning basic concepts about music theory, how to read a score, and other basic topics. That only got me so far so I decided to take a job at a call centre in order to pay for a piano class. I was able to take six months of classes before dropping the job because it was too stressful. I ended up with a better job in the government, with the idea I would pay for classes and a full keyboard to replace my small 5-octave keyboard at home. In the end I just ended up buying the keyboard and not taking classes and just practiced as much as possible. One day I showed my colleague at work a video of myself playing the Rachmaninoff C#-minor prelude and she encouraged me to apply to the Federal University of Rio de Janeiro music program despite thinking of myself as only an amateur. I did end up getting in to the University, but in the composition program because it was easier to get into. This ended up being the right decision because soon after starting my degree, I realized that I was not a fan of being a concert pianist. I was much more interested in analyzing the pieces than playing them through! 
JG:  How do you find the composition scene is different here than in Brazil 
CV: I spent 6 years in Rio pursuing my bachelor's degree and Rio is a huge city, almost double the size of Toronto. This means things are really intense there. It's the hub for classical music in Brazil, and the University is placed right in the cultural centre of the city. Every two years, Rio hosts a contemporary music festival that brings in new pieces from all over the country. So, for two weeks you'd be able to hear a concert every day filled with music by Brazilian composers. What I found, over the six years I was involved in the scene there is that Brazil is very much aligned with modernist European music, which can be very cerebral at times. Even though I very much enjoy listening to that music, it wasn't really what I wanted to write, so I felt a bit out of place at the time. I felt that there weren't any other composers doing what I was looking to do in my own works.  
So, after a chaotic political climate in Brazil, I was encouraged to continue my studies outside the country, which led me to pursue my Master's degree in the United States at the Illinois State University in 2019. This environment was completely different. The university is located in a very small town (Normal, Illinois). Through the music of visiting composers and my colleagues I was exposed to a different side of composition, one that was much more welcoming to different styles. Even accepting things that in Brazil would be considered "bad" music. I felt very much encouraged by that atmosphere, reworking my portfolio in search of the kind of music I really wanted to write.  
I found this same openness to different styles at Western University as well. London was also definitely an improvement in terms of size over Normal while also being similar in its relationship to Toronto as Normal is to Chicago. I have the quieter environment for my studies while still having access to cultural events in the city. From my experience with Western and the HPO, I feel as though the scene in Ontario has a more open mind in regards to composition. You're not judged based solely on the style that you're writing in. Because of that, I feel like this is the place for me to stay and explore. 
JG: Tell me a bit about the piece. How did your piece interact with the visual elements in the concert and how did that collaboration work?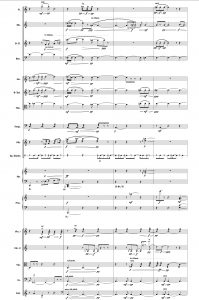 CV: The visual elements were actually made separately from the compositions in the concert. I had no idea what it would look like until the concert. All the visual elements ended up fitting quite well because they were all connected to the theme of a "wonderous world". I decided to approach this theme by not engaging with natural imagery instead focusing on the paradoxical and powerful relationship between humans. As humans, we are part of this world as well and we each are a world to ourselves. This is a common theme in my music, I often start my composition process by finding something that I'm very sensitive to and then while meditating on the topic, try to strip away my personal thoughts to find common ground with my audience. My hope is that they can share in the same feelings that I have.
When I started, I thought that I would just compose absolute music with no references, but I couldn't do that, I need to find something that I feel passionate about in order to start working on it.  
In this piece, I drew on my experience of loneliness over the past three years. Much like how I taught myself music in the beginning, I had to teach myself English when I left Brazil. I used all sorts of online resources and read books which helped, but when I landed in the US I was hit with the reality that I actually could not communicate at all. My first three months was really hard, my brain was desperate to catch up with the language and the cultural differences, which made me feel isolated from my peers. Then six months in, right as I was beginning to feel comfortable, the pandemic hit which made my isolation even worse. The next two years were really hard on me and I started working on pieces that had themes of loneliness and isolation from many different perspectives. Now that I'm in Canada and the pandemic measures are easing and I'm able to make friends again, I decided that this is the time to finally write a piece to get a bit of closure on this part of my life. You can hear this in the piece, the first half is a frozen landscape where things are dark and blurry and the end is full of exploding light ending in a peaceful resolution.  
JG: Did you find that the audience felt those emotions as you intended them? 
CV: Even though I'm much less insecure about what I do than I was in the past, every time I present something in public, I have this anxiety that everyone is going to hate the work that I'm presenting and that'll be the end of my career. Thankfully I haven't had this reaction yet and even better, the reaction in Hamilton was quite encouraging. I'm still trying to find my style in composition exactly and the piece for the HPO was a bit of an experiment for me. I was completely unsure of the way people would react. With all that said, I got a very positive reaction from the audience and from the orchestra. People seemed emotional when talking to me about the piece especially the other composers at the concert. In particular, [CMC Associate Composer] Alexina Louie, who attended the concert, was very complimentary about the piece which was a big honour for me. The musicians of the orchestra also came to me to compliment me on the piece as well. So, all in all, I think the message was received.  
JG: What was it like working with the HPO? 
CV: The only other experience I had with an orchestra was in Brazil which was completely different. In that experience, I had to just deliver the score to the orchestra, they had three days of rehearsal, then they played it and then "bye".  With the HPO, however, I get to go back again and again and I get to know all the musicians and the administration of the orchestra, basically everyone involved. I got to talk to donors and patrons and meet other musicians visiting Hamilton. Next year I'll be giving lectures to the public and be involved in outreach which I'm looking forward to. So far, it's been really great to be connected to the audience and interact with other humans! Composers, like myself, are often content to say "please leave me alone in my corner to write music" so it's been a really helpful for me to break out of that shell. This kind of opportunity is really rare which is sad because there is so much more to music than just writing it. There're the interpersonal parts; talking to people, making connections, understanding how a huge organization like an orchestra works. In all this, [Composer-in-Residence] Abigail [Richardson-Schulte] has been such a great mentor explaining how to be a person and not just a composer! By that I mean, advising on the ways to behave, how to interact, how to find your opportunities, how to understand the whole picture from the basics to being a real professional. It's also great to have Gemma New who is so excited about performing new music, which is very rare for a conductor. I'm really grateful to Abigail, Gemma, and Kim [Varian] because as a newcomer to Canada, it's very hard to get opportunities outside of university and they really believed in me and supported me in an amazing way.   
JG: What are some takeaways you have from the experience? 
CV: My main takeaway was learning to be social. Don't get me wrong, I do enjoy talking to people, it's just more of an effort for me to present myself in public in this way. I'm very much an introvert. Having this guidance in English in particular was extra helpful for me. My other takeaway was understanding the workings of the orchestra. Knowing that you're writing for musicians not for midi tracks in your notation software. They're people who want to show off some times, have interesting things to play, produce music that makes them look impressive and feel accomplished. That's something that I sometimes forget in the middle of writing. Abigail reminded me, in a very kind and instructional way, "give them something to show how good they are". In the end they sounded great so I'm very pleased with how it turned out.